Map Unavailable
Date/Time
Date(s) - Wednesday, July 12, 2023 - Thursday, July 13, 2023
09:00 - 17:00
Categories

The tenth Cambridge Journal of Regions, Economy and Society conference, entitled 'Global Crises, Mega Trends and Regional Development', was held on 12-13 July 2023, at St Catharine's College, Cambridge, UK.
The aim of the conference was to consider how the series of shocks, crises and megatrends that the world is facing may have major socio-economic impacts on cities and regions,
The Conference Programme is HERE.
Catch up on some of the Conference Presentations HERE 
Here are some photos from the conference
Many commentators consider that the world has changed fundamentally including suffering from an unprecedented poly-crisis. Others are more cautious, and believe that there is nothing exceptional or permanent about the current turmoil. It is important to reflect and to take stock as to what might be the impact of these Global Crises and Megatrends on our cities and regions and the people and businesses in them.
Attendees and speakers to the conference were asked to consider the causes and impacts of crises and megatrends, which included the following:
• Technological change, innovation and disruption;
• Supply chains and the location of new business investment;
• Inequality, left-behind places and levelling-up;
• Urbanisation and the attraction of cities as places to live and work in;
• Sustainability transitions;
• The circular economy;
• Health security;
• Food security;
• Energy security
• Demographic changes and an ageing society;
• Geopolitical shifts (in economic power and trade);
• Debt (both public and private);
• Alternative development models (e.g. the foundational economy)
CONFERENCE REGISTRATION, COST AND BOOKING
All attendees to the conference had to register to attend. Accommodation was not included in the delegate fees.
CALL FOR PAPERS 
The conference committee welcomed abstract submissions from academics and researchers in the themes associated with the Global Crises, Mega Trends and Regional Development conference. The deadline for submissions was 14 April 2023, CfP details.
REFUND POLICY AND PRIVACY POLICY
Please note in the event that you need to cancel your registration a full refund can be arranged up to 50 days after the original transaction booking date, providing it is before 3 July 2023. All Paypal transactions are subject to Paypal transactions charges, these and any additional administration fees will be passed on. All Paypal transactions are subject to Paypal's Privacy Policy.
CONFERENCE VENUE
The conference took place in the McGrath Conference Centre, at St Catharine's College, Trumpington Street, Cambridge CB2 1RL. There was no parking onsite, see the Parking in Cambridge webpage and the Finding the College webpage for further directions to the College.
ACCOMMODATION
Accommodation for the conference was to be booked directly by the delegate.  Some accommodation was available at St Catharine's College but it was limited and allocated on a first come basis.
Alternatively, there are a number of other options nearby, including those listed below:
CONFERENCE COMMITTEE:
Professor Judith Clifton, University of Cantabria
Dr Emil Evenhuis, University of Southampton
Professor Harry Garretson, University of Groningen
Professor Mia Gray, University of Cambridge
Associate Professor Michael Kitson, University of Cambridge
Professor Ron Martin, University of Cambridge
Professor Peter Tyler, University of Cambridge
Any conference enquiries can be sent to events@cpes.org.uk
CONFERENCE SUPPORTERS INCLUDE: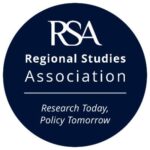 Paypal Bookings information:
All bookings will comply with the CPES Privacy Policy and Paypal Privacy Policy
Bookings
Bookings are closed for this event.