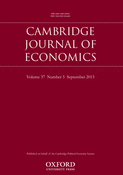 The Cambridge Journal of Economics, founded in the traditions of Marx, Keynes, Kalecki, Joan Robinson and Kaldor, welcomes contributions from heterodox economics as well as other social science disciplines. Within this orientation the journal provides a focus for theoretical, applied, interdisciplinary, history of thought and methodological work, with strong emphasis on realistic analysis, the development of critical perspectives, the provision and use of empirical evidence, and the construction of policy.
The Editors welcome submissions in this spirit on economic and social issues including, but not only, unemployment, inflation, the organisation of production, the distribution of the social product, class conflict, economic underdevelopment, globalisation and international economic integration, changing forms and boundaries of markets and planning, and uneven development and instability in the world economy.
Visit the journal webpages at OUP
Journal News:
2024 will mark the 100th anniversary since the death of Alfred Marshall, a CJE special issue is planned to explore Marshall's contributions in the context of modern conceptions  – Is it (still) all in Marshall? Knowledge, organisation(s), clusters, ecosystems and evolution.  The Call for Papers deadline is 23 September 2023. Submissions should be made using the journal's online submission system. Further details are at: https://academic.oup.com/cje/pages/call-for-papers
Frank Wilkinson (1934-2021) was one of the founding editors of the Cambridge Journal of Economics in the mid 1970's. A Selection of Frank Wilkinson's articles in the Cambridge Political Economy Society Journals has been put together HERE
A blog post related to the Keynes/Knight special issue, 45.5: www.jbs.cam.ac.uk/insight/2021/probability-risk-and-uncertainty
The European Society for the History of Economic Thought Academic Awards for Best Article winner for 2016 has been awarded to authors: Alberto Feduzi, Jochen Runde and Carlo Zappia for their paper entitled 'De Finetti on Uncertainty'. This paper was published in the Cambridge Journal of Economics, 38(1), 2014: 1-21.
The Cambridge Journal of Economics and the Independent Social Research Foundation announce the winner of the recent essay competition on the topic 'What is the place of care in the economy?'. The prize has been awarded to Professor Julie A. Nelson for her essay: 'Husbandry: A (Feminist) Reclamation of Masculine Responsibility for Care', which has been published in the CJE January 2016 issue, Vol, 40, No 1.
News Coverage & Videos from the Special issue on 'Equal pay as a moving target', Volume 39 Number 2 March 2015.